Ah, yes. The age-old battle of the two most popular Volkswagen sedans. The VW Passat graced us with its presence in 1972 as a small, family car that would redefine affordable luxury. Seven years later, the VW Jetta burst onto the scene, giving drivers a capable and iconic compact car. Generations later, they remain two of the most driven vehicles on the road. So, how do you decide between the Jetta vs. Passat?
Well, for starters. You should know that whichever one you choose, you are making a great choice. The new VW Jetta and the new VW Passat for sale both have a ton in common. It really just depends on your lifestyle, your daily needs, and what you want out of a car. Below we will compare the details between the VW Jetta vs. Passat.
2021 Volkswagen Passat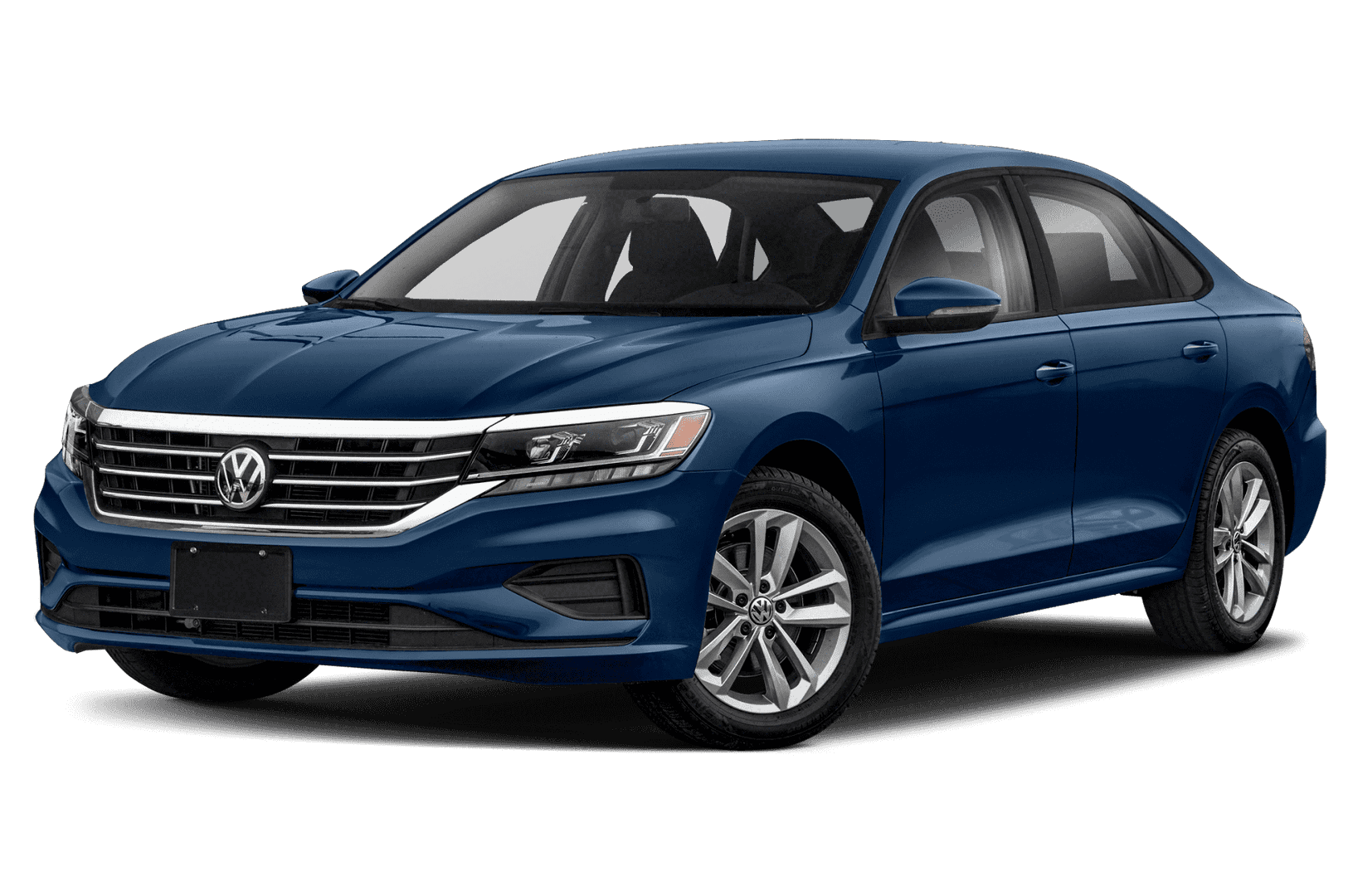 | | |
| --- | --- |
| Base Price: | $23,995 |
| Engine: | 4 cyl 2.0-liter turbo |
| Horsepower: | 174 hp @ 5,200 rpm |
| 0-60: | 7.8 seconds |
| Drivetrain: | FWD |
| Fuel Economy: | 23 city / 34 hwy |
| Seats: | 5 |
| Cargo Storage: | 15.9 cubic feet in trunk |
| Passenger Room: | 102 cubic feet |
| Length: | 194" |
| Shop Model: | New VW Passat for Sale |
2021 Volkswagen Jetta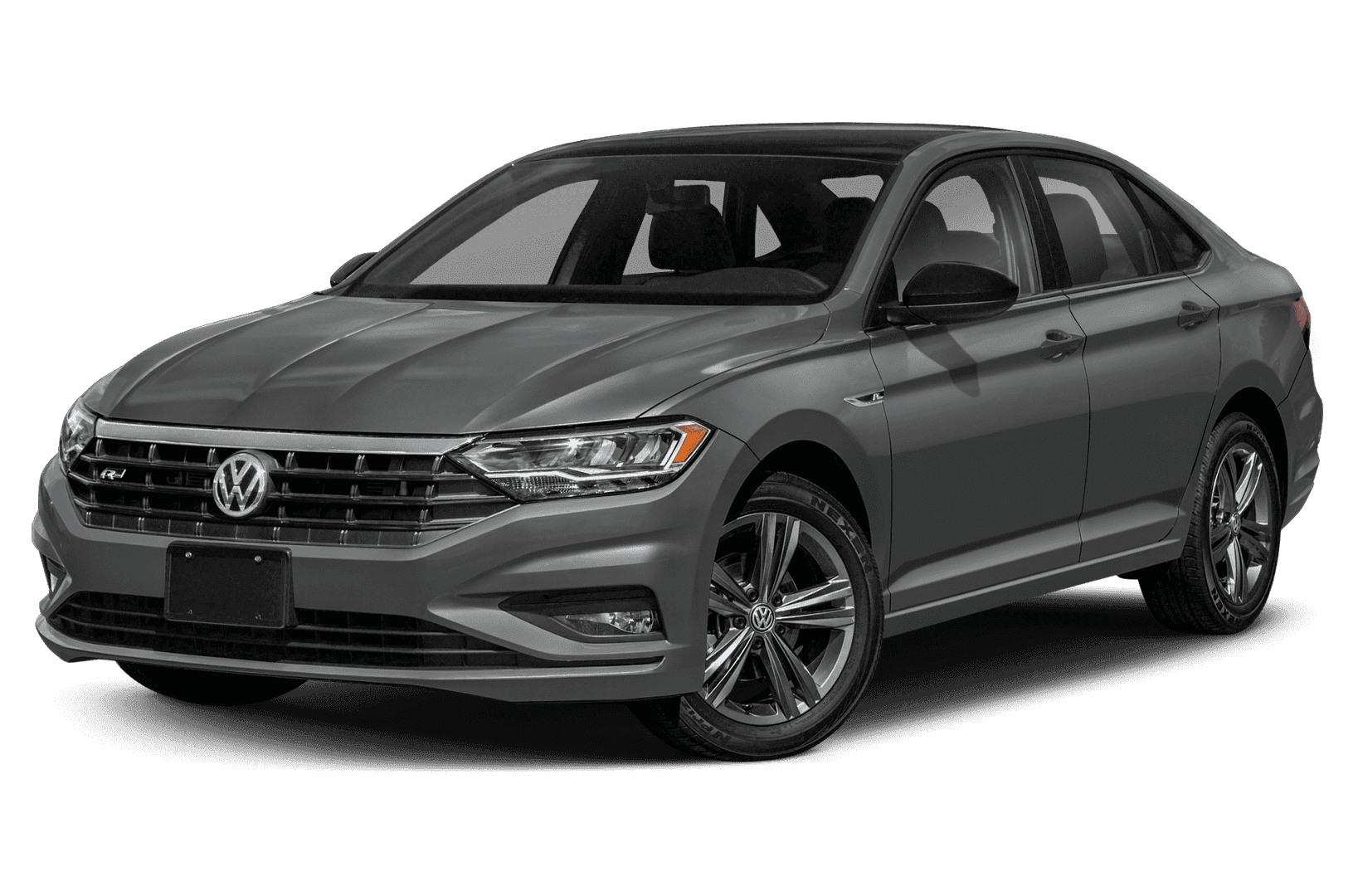 | | |
| --- | --- |
| Base Price: | $19,990 |
| Engine: | 4 cyl turbocharged |
| Horsepower: | 147 hp @ 5000 rpm |
| 0-60: | 7.6 seconds |
| Drivetrain: | FWD |
| Fuel Economy: | 29 city / 37 hwy |
| Seats: | 5 |
| Cargo Storage: | 14 cubic feet |
| Passenger Room: | 94 cubic feet |
| Length: | 185.1" |
| Shop Model: | New VW Jetta for Sale |
Jetta vs. Passat Price
---
When it comes to price, the new VW Jetta for sale takes the cake. The Jetta has a starting MSRP of just $18,995.1 It's one of the most affordable cars on the market today. That's part of the reason why this car is such a popular first car. It's affordable and capable. You'll get smartphone connectivity, a 6.5" Composition Color touchscreen, USB ports, Bluetooth, and Volkswagen Car-Net®, all for that starting price. Make no mistake. It may be a first car, but there are many drivers who come back for another years later––they love their Jetta vehicles that much.
Since you're getting more car, the VW Passat has a higher price point. The starting MSRP on the VW Passat is $23,995.2 Not only do you get more car for the price, but you also get more features. In addition to everything the Jetta offers at its entry-level trim, you also get Adaptive Cruise control, a 3-month trial subscription to SiriusXM® All Access, pedestrian monitoring, a leather-wrapped steering wheel, and more.
Jetta vs. Passat Safety & Comfort
---
Because the VW Passat is bigger, it usually wins this category. It has more legroom and headroom for both the driver and passengers. Both cars offer great seating for up to 5 people, though. People are often surprised by how roomy the Jetta is, considering its stature. Both cabins offer beautiful interior designs and many available high-end appointments to make your ride comfortable.
In terms of safety, both cars continue to win high scores from the NHTSA and IIHS year after year. Volkswagen Cars engineers their cars to protect and last. The difference between these two cars safety-wise is that you'll get more standard safety on the Passat. Forward collision warning, emergency braking, blind-spot monitoring, rear cross-traffic alert, and more are all standard on the Passat. The Jetta has all of those features available, but you'll have to get a higher trim level to get them.
Jetta vs. Passat Size
---
This is where people usually end up making their decision between the two cars. As we said, they are both very similar and have a lot of high-end features. But, if you want a bigger car, you'll want the Passat. This chart will help explain:
| | 2020 Jetta | 2020 Passat |
| --- | --- | --- |
| Vehicle Length | 185.1 Inches | 194 Inches |
| Passenger Volume | 94.7 Cubic Feet | 102.2 Cubic Feet |
| Front Leg Room | 41.1 Inches | 42.4 Inches |
| Rear Leg Room | 37.4 Inches | 39.1 Inches |
| Trunk Volume | 14.1 Cubic Feet | 15.9 Cubic Feet |
The Passat is more spacious if you often have passengers or just enjoy having more cargo room. But, you should know that even though the Jetta has less overall space, it does come with 60/40-split folding rear seats, which allows it to utilize the passenger room to store things like skis.
Jetta vs. Passat Power and Fuel
---
Both the Jetta and the Passat have very similar power and fuel economy numbers. And both rank very well for cars in their class. We will start with the Passat this time around.
The Passat comes with a 2.0L turbocharged 4CYL engine that gets 174 horsepower and 206 pound-feet of torque. The engine is mated to a 6-speed automatic transmission. This powertrain allows you to cruise around town easily. People will wish you didn't have such good passing power because they'll want to stare at your good-looking car as you drive by. The Passat gets an EPA-estimated 24 city and 36 highway MPG.3
The Jetta comes standard with a 1.4L turbocharged 4CYL engine. It gets 147 horsepower and 184 pound-feet of torque. Unlike the Passat, it has a smooth-shifting 8-speed automatic transmission. And, if you have a need for speed, you can opt for the Jetta GLI model. It is more expensive, but it does get 228 horsepower and 258 pound-feet of torque. But, where the Jetta really shines is its fuel numbers. This car gets an incredible estimated 30 city and 40 highway MPG.4
Let Us Help You Get Your Jetta or Passat
---
The team at Gunther Volkswagen of Fort Lauderdale is here to help you make this tough decision. We will gladly answer any more questions you have after reading this article. We know that buying a car is an extremely important decision, and we will walk you through the whole thing. When you've solved the Jetta vs. Passat question for yourself, let us know, and we will help you get started. Call, email, or visit us today to learn more!
Frequently Asked Questions
---
How much longer is the Passat than the Jetta
The Passat is a noticeably bigger car in many ways. Length wise, the Passat is 9 inches longer than the Jetta. This helps to give the Passat more legroom and more trunk space.
Which is more reliable?
They are both extremely reliable vehicles. There is no clear cut winner between the two because they are both built to last a long time. Drivers often say their cars rarely need repairs. And if they do, the parts for both the Jetta and Passat are so affordable that maintaining them remains doable.
Which is the better car?
When asking us to choose VW Jetta vs. Passat - we simply can't! That's like asking us to pick between two really yummy cakes with two delicious flavors. They're both tasty; it's just up to preference! Here's how we like to say it. If you have a big family, you often have passengers in your car, or you usually put a lot in your trunk, the Passat is for you. It's larger, more powerful, and more comfortable. If you like capability, but in a smaller package, the Jetta is for you. It is cheaper and has better fuel economy. Again, as we said at the start, no matter which you choose, it's a great choice!
More On The Jetta