2023 Volkswagen Tiguan Release Date, Interior, Specs & Colors

The 2023 VW Tiguan is going to be a bold and stylish SUV that will serve you and your loved ones well. With its peppy acceleration and refined handling, the VW Tiguan is a blast to drive. It has a spacious interior that offers plenty of room for your family and friends — and all of their gear. Whether you're looking for a new family-friendly daily driver or a road-trip machine, the 2023 VW Tiguan is a great candidate. In the rest of this article, we'll discuss the car's performance specs, interior, available colors, expected release date, and more.
---
2023 VW Tiguan Specs
We do not yet have a firm commitment on the part of Volkswagen that the new VW Tiguan will use the same engine as the 2022 model, but we do expect that this will be the case. The current powertrains are dynamic and powerful, and the 2023 model is not likely to have significant changes seeing as the 2022 model was just refreshed.
The new 2023 VW Tiguan will probably use the same turbocharged 2.0-liter engine found in the existing model. This powerful engine makes 184 horsepower and can be paired with front-wheel drive — the standard option — or all-wheel drive. These powertrains will see you cruise around town with ease. The stylish Tiguan will turn heads everywhere you go, too.
On the performance specs front, there have not been many 2023 VW Tiguan changes made. Let's look at other parts of the vehicle now to see how it will evolve for the new model year.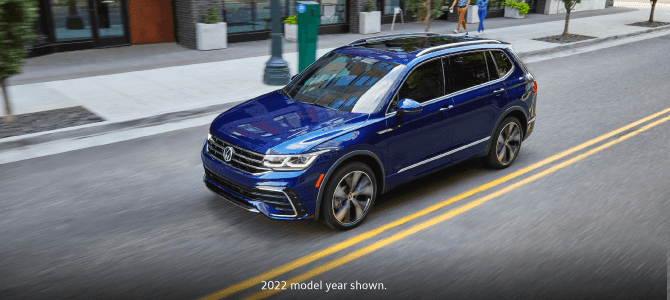 ---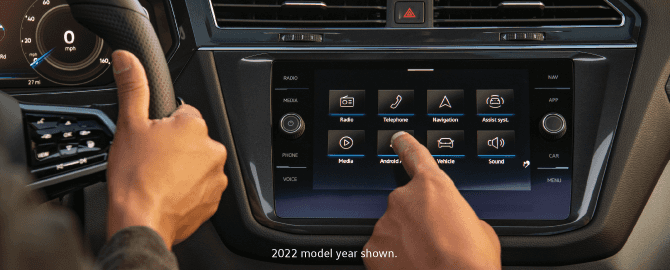 2023 VW Tiguan Interior
The cabin of the VW Tiguan is refined and elegant. You and your passengers will have plenty of space to spread out in the roomy seats. A unique feature of the Tiguan is that you can equip it with seating for seven people, even though it's part of the two-row SUV size class. While the seats in the very back may not be spacious enough for a long drive, they're perfect for driving the kids and their friends around town.
Higher-level trims will be replete with luxury features and appointments. You can get a panoramic sunroof, faux-leather seating, heated seating, and more. If you'd like to see how the VW Tiguan stacks up against the competition, then check out our VW Tiguan vs. Subaru Forester comparison.
---
2023 VW Tiguan Colors
Volkswagen has not yet told us what to expect regarding the 2023 VW Tiguan colors. Based on the 2022 offerings, however, we can reasonably assume that at least seven options will be offered. Barring an unexpected and major 2023 VW Tiguan redesign, we think that these seven colors from the 2022 model will be available:
Platinum Gray Metallic
Pyrite Silver Metallic
Deep Black Pearl
Pure White
Atlantic Blue Metallic
Kings Red Metallic
Oryx White
This expansive lineup of colors offers something for everyone. If you want to slide by undetected, then Deep Black Pearl or Platinum Gray Metallic may be the way to go. Folks who prefer to stand out should consider Kings Red Metallic or perhaps Oryx White. No matter what, there is a 2023 VW Tiguan for you and yours.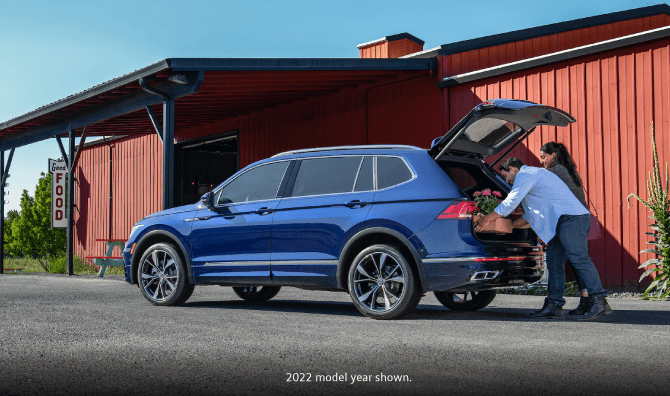 ---
2023 VW Tiguan Release Date
Volkswagen has not yet told us the exact date when we should expect the VW Tiguan to be released, but we do expect to see the vehicle on the showroom floor in Fall 2022. We're excited to start driving one of the sleek and muscular SUVs. Folks who know they want a VW SUV but who aren't sure which model to opt for should review our VW Tiguan vs. Taos comparison.
Our staff is friendly and professional. We work hard to try and secure you the low-rate financing you deserve. Visit us today to test drive the VW Tiguan.
Frequently Asked Questions
Will there be a 2023 VW Tiguan?
There will be a new VW Tiguan for the 2023 model year. Volkswagen has not yet revealed many details about the car, but we expect it to continue the company's tradition of excellence. The VW Tiguan is unique in that it sits firmly in the two-row SUV size class but has a folding third row that allows you to seat seven. It's a very versatile car.
What is the wait for a new Tiguan?
As of this writing, we do not yet know the precise 2023 VW Tiguan release date. Industry experts, however, believe that the car will be available in the fall of 2022. Since we're writing this in mid-summer, there are just a few months left to wait until the powerful new VW Tiguan comes onto the market. Reach out to our staff to be added to our list. That way, you'll be the first to hear any new news.
---
---
Continue Your VW Research: