Volkswagen ID.4 Vs. Ford Mustang Mach-E 2022 Comparison

This Volkswagen ID.4 vs. Mach-E overview compares the stats that make these two EV crossovers fierce competitors. Both of these new EVs for sale push the envelope toward a carbon-free future, but only one of them creates the kind of lasting value and impression that is truly sustainable. Continue researching the VW ID.4 here, or keep scrolling to read our EV model comparison.
The ID.4 vs. Mach-E Brand Overview
Before we get into the nitty-gritty of how these two EVs differentiate from one another, let's embrace some of the positive VW ID.4 vs. Mach-E brand values. The Ford Motor Company has made its mark as the brand that knows how to produce vehicles with widespread appeal. The Blue Oval is also known for producing exciting cars and trucks that blue-collar employees can afford. This has always been the key to its success as a brand.
From across the seas, Volkswagen was born out of the need to have the everyday person find affordable and capable transportation. Over the years, "the people's car" became tied to the spirit of youth, freedom, and fun. The brand holds to those values as it pioneers a new future. Also known for robust features and technology, the Volkswagen ID.4 is the EV for the everyman. See how on the rest of our VW ID.4 vs. Mustang Mach-E review.
VW ID.4 vs. Mustang Mach-E: Performance

2022 VW ID.4 Pro

2022 Mustang Mach-E Select

0-60 (seconds):
7.7
5.2
Horsepower:
201
266
Torque (pound-feet):
229
428
Drivetrain:
RWD
eAWD
EPA-Estimated Range:
275 miles1
247 miles2
Volkswagen ID.4 vs. Ford Mustang Mach-E Interior Shootout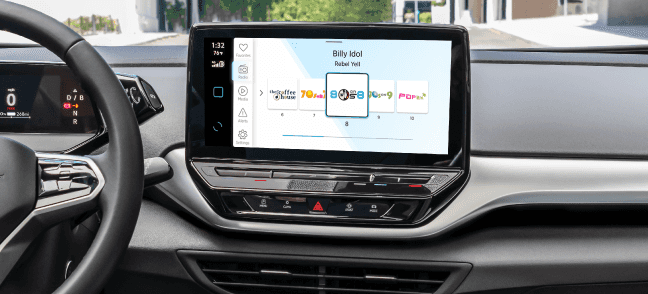 How could you argue with the open-air concept that gets its name from "Intelligent Design"? And indeed, many clever features are rolled into every VW ID.4 coming off the line. One of the most notable features of the Volkswagen ID.4 interior is called "ID Light." This clever feature humanizes the vehicle courtesy of an LED strip integrated into the dash. You can see vehicle lock status from outside (when illuminated red). You can get navigational instructions by a scrolling green light. You can see incoming call notifications and more. There is no such option on the Mach-E. The VW ID.4 continues to impress with a heated leather steering wheel and configurable ambient lighting (both standard).
The entry point to the Mustang Mach-E includes plenty of USB charge points (just like the VW ID.4) and an exclusive black interior (while the Volkswagen gives you options. You'll also find a rotary-style gear shifter and a standard analog instrument cluster (unlike the VW ID.4, which gives you the VW Digital Cockpit). In your opinion, who wins the Ford Mach-E vs. VW ID.4 interior battle?
Volkswagen ID.4 vs. Ford Mustang Mach-E Size Comparison
Let's look at the Mach-E vs. ID.4 dimensions for a moment. The Mach-E has an overall length of 186 inches, a width of 74 inches, and a height of 64 inches. The Volkswagen ID.4 is 180.5 inches long, 72.9 inches wide, and 65.1 inches high. Its wheelbase is 108.7 inches.
Regarding Mustang Mach-E vs. VW ID.4 dimensions, the Mach-E is longer and wider, but the VW gives you more cargo room. The Mach-E gives you 59.7 cubic feet of cargo area volume, while the VW ID.4 offers 64.2 cubic feet of cargo area. If your primary concern is space, the point goes to the Volkswagen.
VW ID.4 vs. Mustang Mach-E: Dimensions

2022 VW ID.4

2022 Mustang Mach-E

Number of Seats:
5
5
Cargo Capacity (cubic feet):
64.2
59.7
Length (inches):
180.5
186
Width (inches):
72.9
74
Volkswagen ID.4 vs. Mach-E Features & Technology
The new VW ID.4 and Mustang Mach-E both represent the vanguard of automotive advancement and technology. It's only fitting that both cabins would offer the latest features and conveniences.
The first thing you might notice about the new VW ID.4 is the glass roof that offers sweeping sky views as you drive. If you're worried a panoramic glass roof might let in too much light on sunnier days, you'll be glad to know that an electric sunshade activates with the swipe of a finger to keep you in the shade.
The Mustang Mach-E Select comes with a 15.5-inch touchscreen with cloud-based connectivity for all of your connected audio and navigation needs. Over-the-air software updates conveniently keep you current as you drive.
Volkswagen ID.4 vs. Mach-E FAQs
Do the Mustang Mach-E and Volkswagen ID.4 qualify for a tax credit?
Yes, the Mustang Mach-E and Volkswagen ID.4 qualify for tax credits, but each state has different incentives. While the maximum federal tax credit is $7,500, it's always best to speak with your tax professional about how this credit applies to you.
Do the Mustang Mach-E and Volkswagen ID.4 offer all-wheel drive?
Yes, they do. Both vehicles come with standard RWD, and AWD variants are available throughout the rest of the model range.
How fast is the Mach-E vs. Volkswagen ID.4?
The Mach-E GT Performance Edition will give you a tire-stripping 480 horsepower. With a top speed surpassing 130 mph, there's no place that you and your Mustang Mach-E can't get to in a hurry — even if it's to our dealership to trade it in for one of our new VW specials.
---
12022 ID.4 Pro EPA estimated total range is 275 miles. Actual mileage and range will vary and depend on several factors including driving and charging habits, accessory use, temperature and topography, battery age, load, and vehicle condition. Battery capacity decreases with time and use. See owner's manual for details.
2Based on full charge. Actual range varies with conditions such as external environment, vehicle use, vehicle maintenance, lithium-ion battery age and state of health.